Stop Foreclosure Fraud presents the following...
Clouded Titles- In October of 2012, my firm (DK Consultants LLC) took an audit team into the Williamson County, Texas Courthouse Annex (not so much under stealth) and spent time auditing a batch of 5, 278 MERS-related assignments that were recorded in the Clerk's official property records from 2010 – 2012. The results were published [...]
Talk about kicking A**!! BERGMAN & GUTIERREZ – On February 10, 2014, Bergman & Gutierrez obtained another significant win against Wells Fargo, defeating Wells Fargo's motion for summary judgment/adjudication. Through this motion, Wells Fargo had asked the court to issue judgment in its favor by arguing Plaintiffs cannot support any of their legal claims with [...]
Anne-Marie GALIASTRO & another [FN1] vs. MORTGAGE ELECTRONIC REGISTRATION SYSTEMS, INC., & another. [FN2] SJC-11299. Worcester. October 7, 2013. – February 13, 2014. . . . Discussion. Retroactive application of Eaton. Whether the Galiastros' complaint states a claim entitling them to relief based on allegations that MERS lacked standing to effect a foreclosure by the [...]
Clouded Titles- This case appears to change the landscape on how quasi in rem quiet title actions are filed! The following blog post is based on current research and is NOT and should NOT be taken as the rendering of legal advice. Consult with an experienced quiet title attorney if you need further assistance. CASE: [...]
Bank of New York v. Romero, 33,224 (N.M. 2014) New Mexico Supreme Court Date Filed: February 13th, 2014 Status: Precedential Docket Number: 33,224 Fingerprint: 3c58b2ff03a9ac5d37f59ef968e78224f47b5eb0 IN THE SUPREME COURT OF THE STATE OF NEW MEXICO Opinion Number: Filing Date: February 13, 2014 Docket No. 33,224 BANK OF NEW YORK as Trustee for POPULAR FINANCIAL SERVICES [...]
NBC MONTANA- A woman who sued US Bank alleging the company defrauded her when she sought a $300,000 loan to buy a condo in Bozeman has been awarded $6 million in damages. Gallatin County jury on Friday awarded 55-year-old Mary McCulley $1 million in compensatory damages and $5 million in punitive damages for fraud. McCulley [...]
Please Visit Our Sponsors. This Site is made possible through support of our sponsors.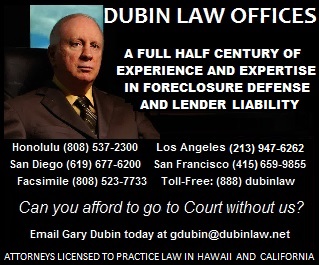 Legal information is NOT legal advice.
The information herein should NOT be taken as legal advice and is NOT a substitute for the assistance of a licensed advisor.
*posts are scheduled in advance and may not be in real time*

© 2010-1

3

FORECLOSURE FRAUD | by DinSFLA. All rights reserved.