Occupy Wall Street: NYPD Arrests 700 Protesters On Brooklyn Bridge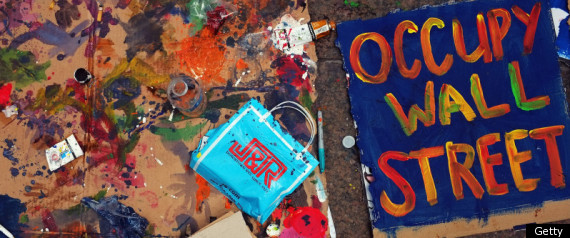 Hundreds of people protesting Wall Street abuses were penned in and arrested by police Saturday, two weeks into an ongoing demonstration that has become known on Twitter as
#OccupyWallStreet.
Centered at Zuccotti Park since September 17, the gathering that began as a call to arms from anti-consumerist magazine AdBusters has shown no sign of a slowdown.
As HuffPost reported recently,
the movement is less about
specific policy demands and more about an expression of opposition to ever yawning economic inequality driven by Wall Street and its allies in Washington.
Greg Basta, an official with New York Communities for Change, said that the organizers were encouraged by police on Saturday to march on the street area of the Brooklyn Bridge, instead of the walkway, then subsequently arrested them for marching in traffic. Two lead organizers, Jonathan Westin and Pete Nagy, were penned in by police. Westin managed to exit the police pen, but Nagy is missing and presumed detained by police, Basta told HuffPost.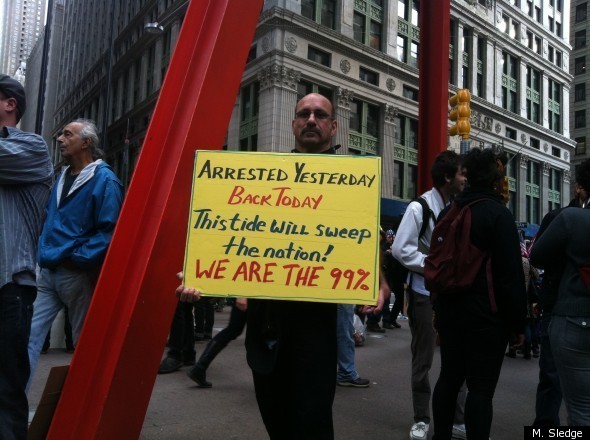 This protestor's sign -- "arrested yesterday, back today" -- seemed to signify the general spirit in Zuccotti Park on Sunday, one day after hundreds of Occupy Wall Street marchers were arrested on the Brooklyn Bridge. They say they won't be bowed by the police pressure.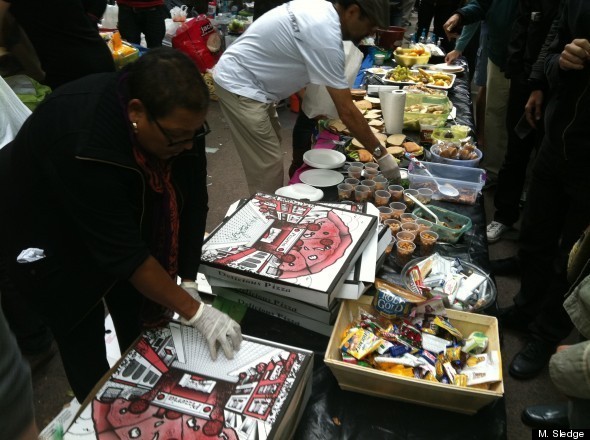 After a rainy Saturday night, much of Occupy Wall Street's food was ruined or moved away. By Sunday afternoon, a whole new spread -- replete with pizza, snacks and sandwiches -- had been donated to the impromptu camp.
- Matt Sledge