SECURITIZATION OF RESIDENTIAL MORTGAGE BACKED ASSETS CAN NO LONGER BE JUSTIFIED.
Stop Foreclosure Fraud presents the following...
Former bank prosecutor Lanny Breuer is back defending corporate clients. Wait 'til you see what his new job prizes Salon- When Lanny Breuer left his position as head of the Justice Department's criminal division to return to become vice chair at the law firm Covington & Burling, most observers saw it as evidence of the [...]
Daily News- These lawyers were engaged in a court battle — literally. A New York attorney sued a bigshot partner at an international law firm for allegedly trampling him on his way out of a Brooklyn court room. David Dunn angrily assaulted Bruce Richardson when Dunn tried to leave a conference room after a referee [...]
Sounds awfully bogus…anyone surprised? PALM BEACH POST- In a generous perk for a billionaire businessman, mortgage firm Ocwen Financial Corp. bought Chairman William Erbey's Atlanta mansion for $2 million more than he paid at the peak of the housing market. Ocwen (NYSE: OCN) said in a regulatory filing last month that it paid $6.48 million [...]
Please Visit Our Sponsors. This Site is made possible through support of our sponsors.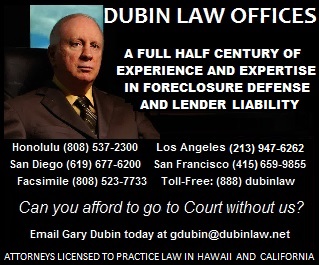 Legal information is NOT legal advice.
The information herein should NOT be taken as legal advice and is NOT a substitute for the assistance of a licensed advisor.
*posts are scheduled in advance and may not be in real time*

© 2010-1

3

FORECLOSURE FRAUD | by DinSFLA. All rights reserved.